To manage any kind of swap and any kind of event, we recently added 3 functionalities:
Matching of events and cash-flows

Complex features such as risk-free rates, cap/floors or non-deliverable currencies

Basket underliers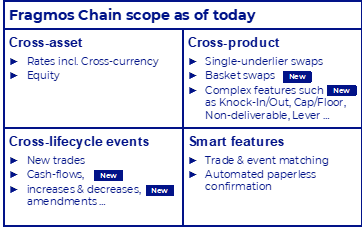 As the only ISDA CDM-native post-trade platform, we capitalize on CDM's modularity to offer a broad variety of products. We are currently extending CDM's scope to structured products, in close cooperation with ISDA and FINOS.
As a testimony to the trust we have built with banks, we will be live early 2023 ! To prepare this important milestone, several banks have successfully used our platform in a Trial mode over the last months. We are organizing further Trial sessions in the next few months to allow additional banks to participate.
And we won't stay there. 
We plan to bring soon many more products and features
, from FX and Structured derivatives to a model specifically designed for trades between banks and buy-sides.