Fragmos Chain multi-party platform reinvents

post-trade of

capital markets transactions by streamlining interactions between financial institutions.
Thanks to the blockchain, participants benefit from a golden source for both the economic and legal terms of their transactions. They can synchronize their operations with their counterparties in near real-time, and trade events calculations are automated by smart contracts.
Such collaborative processes eliminate most manual tasks and redundancies and dramatically reduce costs and risks.
THE FUTURE OF OTC DERIvatives POST-TRADE OPERATIONS
 Fragmos Chain was born out the combination of 4 facts.
1. Uncleared OTC derivatives post-trade is very expensive & risky
   ● Pervasive manual tasks
   ● Frequent errors
   ● Data & process inconsistencies
2. The future of Derivatives is collaborative
    ● Existing models & transformation approaches are doomed
3. Institutions have failed to address external issues between them 
even if they have done their best to optimize internal processes
    ● Lack of Shared data
    ● Lack of Communication Standards
4. Innovative technologies & new standards have emerged and will help dramatically transforming the industry… but the path to adoption is slow
"$20 billion total annual spending on post-trade processes – Potential cost savings of 80%"
Barclays, July 2020
Fragmos Chain solution in a Nutshell
Fragmos Chain platform secures OTC derivatives contracts post-trade all along their lifecycle:
Collaboration: we streamline institutions' communication with their network & inside their organization, thanks to Corda Blockchain (DLT) technology
Golden source: We create a unique, standard (based on ISDA CDM), legally binding representation of each trade
Workflow automation based on Smart Contracts, from trade matching, legal confirmations, to cashflows, lifecycle events & regulatory reporting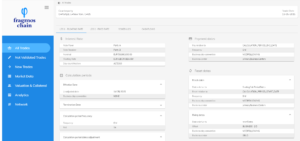 Extensive asset classes coverage
Streamlined collaborative processes
Streamlined and controlled collaborative processes on the platform enable you to exchange information through digital channel and fully monitor trades and lifecycle events.
Data are shared and can be modified with counterparty in near real-time thanks to APIs.

Interactions are managed through social network functions: monitoring, instant messaging, alerts, notifications.
We cover both paper and electronic trades on the whole trade lifecycle: matching, reconciliation, lifecycle events, cash-flows, regulatory reporting.
Partners can easily be plugged to the platform, thanks to Corda & CDM standards: electronic platforms (trading, matching) and complementary functions (settlement, collateral).
BLOCKCHAIN INFRASTRUCTURE – CORDA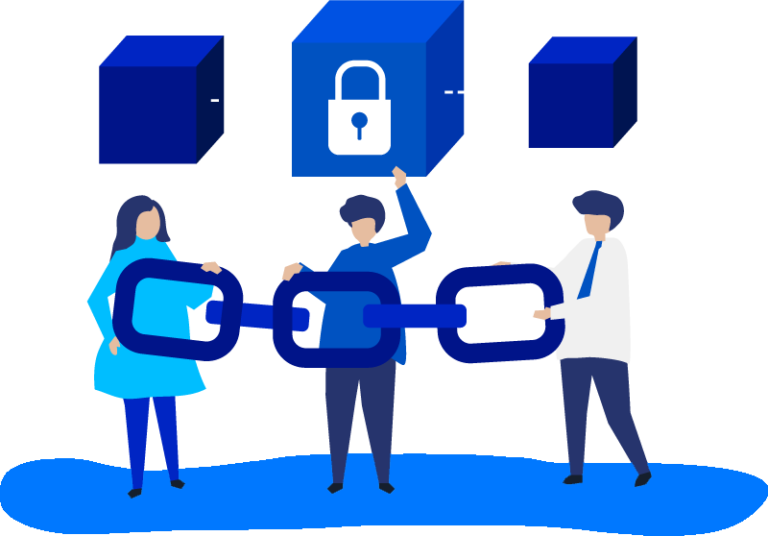 Why Blockchain?
To easily build immutable golden source and audit trail through data synchronization, automatic execution thanks to Smart Contracts
Why Private Blockchain (aka DLT)?
Privacy is key for banks: only them can access their own data. Nobody else, not even Fragmos Chain
Right level of scalability for Derivatives post-trade use case
Cheap and environmentally sound: no mining, no tokens, no crypto-asset
Simple & efficient consensus mechanism through counterparties' validation & notary
CORDA by R3 is the reference blockchain technology for Capital markets
Adequate security and technical architecture
Alignment between Corda and ISDA CDM architecture, which ensures full audit trail capabilities
R3's bank and finance ecosystem: R3's Partner Program includes 408 partners, of which 88 financial institutions*
Thanks to Blockchain technology, we create a decentralized trusted environment for secured data storage, instant collaboration and full audit trail.
FINANCIAL TRANSACTIONS DATA MODEL – ISDA CDM
What is the ISDA CDM?
The ISDA Common Domain Model is the new data model standard for the OTC financial transactions.
It was built to prepare for the next wave of digitalization in the financial markets.
Why ISDA CDM?
The ISDA CDM enables Fragmos Chain clients to collaborate irrespective of their own internal booking system and data model.
Interoperability is maximal from simple transactions to complex exotic products.
"The ISDA CDM is the first industry solution to tackle the lack of standard conventions in how derivatives trade events and processes are represented… paving the way for greater automation and efficiency at scale."

ISDA
Operations tasks are the major & direct beneficiaries
Much less time spent on manual tasks, thanks to quick analysis of discrepancies and management by exception
Reduced delays of discrepancy analysis
Native consistency between trade, position, cash-flow, and legal views
Facilitated booking-to-confirmation process
Improved interactions with FOs thanks to detailed view of trades and events
IT systems for Operations are rationalized
Positive impact on revenues
Radical decrease in operational losses with mis-booking error decrease and reduction of payment delays and claims
Improved client service
Positive impact on revenues with users focusing on value added tasks
 

We are now in the pilot phase,

if you wish to join

or simply for more information.